Pain Perdu, which translates to "lost bread," is the traditional French version of the American "French Toast." It is an age-old technique for making use of leftover or stale bread by dipping them in a creamy mixture of milk and eggs and frying them in clarified butter. This recipe has a richer batter than the regular French toast or
snack recipes
similar. When cooked, the result is a custard-like texture in the interior and a crispy golden coating. The addition of caramel sauce adds mouthwatering sweetness that kids will love. Pain Perdu with Caramel-Benjamin is almost like dessert for breakfast. It is an easy recipe that is fun to do and as Chef Clement Bruno demonstrates here, kids can make this dish or assist you for a lovely way to start the morning.
Chef Bruno uses stale
French bread
for this recipe. You can also use day-old Italian bread or leftover brioche but not sourdough. Stale bread soaks up more of the milk-egg mixture without crumbling or falling apart, which fresh bread tend to do. Before frying the soaked bread, make sure that the butter in the skillet is sizzling hot to get a crispy outer crust.
This recipe makes use of the simplest of ingredients to make the batter: milk, eggs, sugar, and a pinch of salt. The thick slices of day-old bread are dipped on the batter generously covering both sides. Large amounts of butter are used to fry the dipped bread thoroughly. Other versions of Pain perdu add cinnamon or vanilla or both to the batter for more flavors. Others also like to top their pain perdu with fruits, honey, jam, Vegemite, apple sauce, whipped cream, maple syrup, powdered sugar, yogurt, marmalade, cheese, chocolate, or marmalade. Like pancakes or waffle syrup, it can also be served with bacon, beans, or sausages.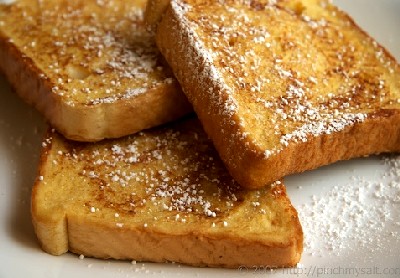 Ingredients
Waffle dough:
½ lb. flour
1.8 oz. sugar
1 ½ tablespoons baking soda
2.8 oz. butter
salt
4 egg yolks
4 egg whites
0.77 lbs. milk
Light cream:
1 cup cream
powdered sugar
vanilla
Apples:
5 apples, Calvados apple brandy
3.5 oz. butter
1.8 oz. sugar
water
Chocolate sorbet:
270 dark chocolate chips
3 1/2 oz. cocoa
2 pints water
1/2 lb. sugar
Chestnut syrup:
1/2 lb. water
½ lb. sugar
1 lb. chestnuts
vanilla
1. Make the batter by mixing the beaten eggs, milk, sugar and a pinch of salt and vanilla. Place in a shallow dish.
2. Slice the day old French bread into thick slices. Dip the slices on the batter, making sure that both sides are well covered. Don't soak them in the batter too long and dip only two or three at a time, cooking them immediately after dipping. Place soaked slices on a clean dish.
3. Heat the saucepan and melt a generous amount of butter. Fry the bread slices until crispy and golden brown.
4. To make the caramel, heat sugar in a pan on very low heat. Keep stirring with a whisk until the sugar dissolves into a liquid. As the liquid boils, stop stirring and swirl the pan to dissolve any remaining granules. When all crystals have melted, add the butter and whisk until the butter melts. Turn the heat off and after about three seconds, add the cream in the pan and whisk vigorously until it foams and incorporates and becomes a smooth caramel. Allow to cool and store in a jar.
5. Arrange on a plate and pour caramel sauce over the bread. Serve and enjoy!