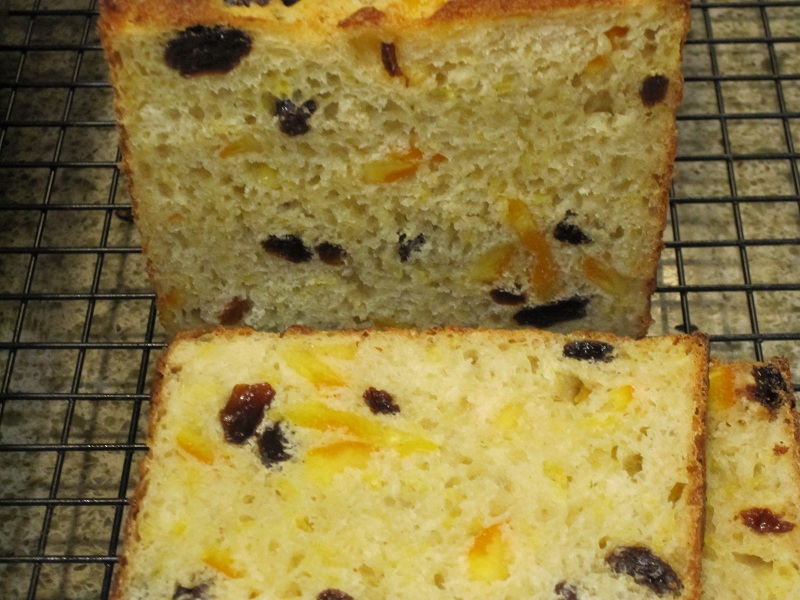 With the citrus flavor of orange the
classic raisin bread
is made even more scrumptious. Moist, rich and chewy, this recipe for orange raisin bread has an incredible texture and flavor. It makes a divine breakfast or splendid snack. Orange raisin bread slices are hearty treats that look beautiful and smell even more wonderful. Spread a slice of butter on a toast of orange raisin bread and enjoy with some milk or coffee for breakfast. Or coat the slices with some cream cheese or butter cream frosting and serve as a simple yet belonging to the list of
healthy dessert recipes
after a meal.
Made of all-purpose flour, fresh oranges, fresh orange juice, raisins, dry yeast, water, butter, sugar, and salt this sweet and tangy bread is like cake. You need to wait for the dough to rise until it doubles in size since this is not a quick bread and is a recipe using yeast. This will take about half an hour to an hour or two. If you poke the dough when it has risen, it should leave an indentation. In a slightly warm spot in the kitchen that is free of draft leave the bowl where the dough is. To protect from dust or dirt and to keep the wind out cover the bowl in a plastic wrap.
You need to soak them in warm tap water for about 10 minutes to plump them up and reconstitute them before using the raisins to make this recipe. After soaking drain them well and pat them dry with a clean towel. Instead of water you can soak the raisins in rum, brandy or liqueur if you desire a tinge of liquor taste in your bread. This will give extra depth to your orange raisin bread. To make this recipe you can also substitute other dried fruits including prunes, dates, or cranberries as long as they are the same measurement.
Ingredients
2-1/4 teaspoons dry yeast
2 cups warm water
6 oz. frozen orange juice, undiluted
2/3 cup granulated sugar
2/3 cup butter
4 tablespoons salt
1 cup raisins
4 quarters fresh orange, seeds removed and ground
20 cups all purpose flour
1. Preheat the oven to 375 degrees F. Grease 6 9 x 6 loaf pans. Pour the raisins into a bowl and cover with warm water; set aside. Add the warm water in a large bowl. Add the yeast. Set aside.
2. In a saucepan scald the milk. Pour into the large bowl of an electric mixer. Add the sugar, butter, orange juice, and salt. Allow to cool to lukewarm.
3. To the milk mixture add the yeast mixture. Add 8 to 10 cups of flour, beating with an electric mixer with a dough hook until smooth and the dough no longer clings to the sides of the bowl.
4. Add the ground orange and blend well. Drain the raisins then fold into the dough.
5. Divide the dough among the prepared loaf pans. Cover and let the dough rise in a warm location until doubled in size.
6. Bake for 40 minutes, or until the loaves sound hollow when you rap them with your knuckles.